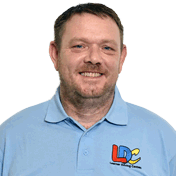 About me
Hi my name is Dave O'Neill
I'm a fully qualified driving instructor based in Dorchester. I've lived in Dorset for most of my life with the last 11 years in Dorchester. Previous to this job I was a kitchen manager for Wetherspoon working at the Royal Oak in Dorchester which is where I met my lovely wife. We have six great children all of whom go to school in Dorchester or will when they are ready to. My wife still works at the Royal Oak and has done since it opened.
I took the opportunity to train as a driving instructor a couple of years ago and have never looked back. I can truly say I love my job and watching people achieve there ultimate goal is truly rewarding.
I'm a calm, friendly driving instructor who will do all that I can to make your lessons relaxed and enjoyable. Indeed, if I do anything that causes this not to be the case I will gladly offer to refund my fee for that lesson. This is how confident I am that you will find lessons with me both enjoyable and productive.
I was fortunate to be trained by LDC in the latest adult coaching and training techniques so you can be assured the training I give will be of the highest standard and very effective. And of course I have been specially trained to use the incredible LD System of learning to drive.
Well I hope this gives you a brief idea about me so please feel free to click here to "Contact me" and I will get back to you with my availability etc. I also offer to provide a no obligation Free Home Visit to meet with you and your family to discuss the various course options I can provide and to explain how it all works if this would be of interest to you.
So if you are interested in taking driving lessons or an intensive driving crash course with a patient, friendly driving instructor in the following postcode areas: DT1, DT2, DT3, DT4, please don't hesitate to "Contact me"